One of a kind Original Canvas Artworks and Private Commissions.
For discerning art collectors, no reproductions in any edition can override the undeniable fact there can be but one original artwork. New Orleans' annual Mardi Gras poster series is the longest running series of posters in history on one subject by one artist and is seen around the world, yet none of the original poster paintings have been ever been exhibited to the public.
Inquiries about existing art acquisitions and new private commissions contact:
Email: andiart@optonline.netPhone: (201) 652 7531 or (201) 923 8211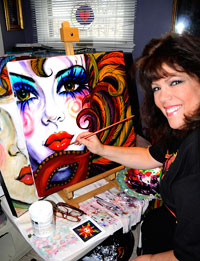 In New Orleans' French Quarter at Pirate's Alley on
713 Royal Street you may visit Robin's Gallery to see
in person some of the original works shown below.
See Gallery Video