Charitable Work:

New Orleans Area Habitat for Humanity
Musicians' Village
American Cancer Society
Mediators Beyond Borders
Alabama Blues Project
Arkansas Children's Hospital
St. Michael's Special School-New Orleans
Mount Carmel Academy-New Orleans
Human Resources Development Institute - Chicago
Winchester Medical Center- Virginia
Visiting Health/Hospice- New Jersey
Red Cross-New Jersey
Reading is Fundamental-Washington DC
Diabetes Foundation-Mississippi
Colleen Giblin Foundation-New Jersey
Women's Place - Ontario, Canada
Holmes Medical Center - Florida
The Autism Center - Dallas TX Conferred with Honorary Citizenship by Mayor Sidney Barthelemy for promoting a positive image of New Orleans Mardi Gras. Proclaimed by Mayor Mitch Landrieu and Council for charitable works for New Orleans and her support of small businesses. Disney World, Universal Studios NATO, WestPoint have exhibited Mistretta's classic posters.
For licensing permissions, special commissions and
original art Inquiries, contact: andiart@optonline.net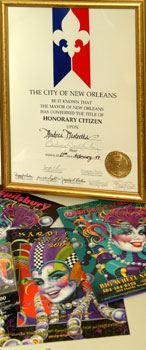 All images are copyrighted and watermarked. Reproduction of any image on this website by any means is strictly prohibited.
©2015 Andrea Mistretta
All Rights Reserved